30 Sep 2015
The Color Experience Website Redesign
Back in 2011 when I was studying at the School of Arts and New Media (Scarborough, UoH), one of my module assignments was to redesign the website for the Bradford Color Museum. The now defunct website was a wonderful array of questionable usability and design choices. Granted the website was very old and designed to serve as an "online experience" of sorts.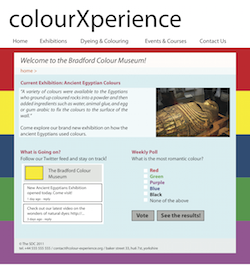 I no longer have the assignment brief but I remember concentrating on re-structuring the content of the original website to three entities: website, YouTube and Wiki. The original website had a lot of information about different fabric dyeing processes so instead of making a complex library for the website, I created a separate Wiki. Wikis are great for small non-commercial hobbyist communities for organising knowledge.
I started a YouTube account for the Color Museum to in a way replace the "multimedia" aspect of the website. Making videos is a relatively easy and cost effective way to add promotable content to your website and is very user friendly.
It was my first time creating a website mockup with Illustrator. For the main theme I picked a rainbow like palette of colors to display in the background. I restructured the information on the original site under appropriate headers and pages. The mockups are a little unpolished but them being my first website redesign project, I'm happy with how they turned out.
You can view the mock up slides on Flickr
23 Sep 2015
Updates to Amazing Image Gallery
The Amazing Image Gallery (GitHub repo) nears its completion! It now happily fetches and displays up to 20 of the latest photos from my Instagram feed. I added arrow-buttons to scroll through the feed, one image at a time. Mouseover now provides a tooltip box (credit goes to Alessio Atzeni) with the photo's Instagram description. I'm not sure how much more features I will add to this project but it still needs a bit of bug fixing.
16 Sep 2015
Videoesittely, SoMe-koulutus ja rekrytointi
Kävin pari viikkoa sitten SoMe Studion yhden päivän koulutuksessa, jossa käsiteltiin videoesittelyitä työnhaun välineenä ja oman osaamisen esilletuomisessa. Kävimme aluksi läpi teoriaa ja katsoimme valmiita esittelyitä, jonka jälkeen aloimme työstää omia videoitamme. Ideoin ryhmäläisteni kanssa, kirjoitin lyhyen käsikirjoituksen ja kuvasin videon läppärin kameralla. Latasimme videot ilmaiseen nettieditoriin ja lopulta laitoin valmiin esittelyn YouTubeen. Vaikka oma sisäinen ääneni kritisoi nopeasti toteutettua, hieman amatöörimäistä lopputulosta, kurssin ohjaaja Maria Rajakallio kehui videota ja liitti sen SoMe Studion blogiin. Maria suositteli myös luomaan oman hashtagin työnhakua varten ja päädyin #carlosduuniin tägiin.
Olen liittänyt valmiin videon tähän alle, katso, jaa ja ota yhteyttä!
Suosittelen SoMe Studion koulutusta lämpimästi kaikille videoesittelyistä kiinnostuneille!
14 Sep 2015
Amazing Image Gallery
It's ALIVE! For the past few weeks, I've been working on my JavaScript (jQuery) Amazing Image Gallery, which displays four thumbnails and one single main photo. The basic functionality for local images was completed sometime ago, but today I released the Instagram version of my gallery. It fetches the four most recent photographs from my Instagram feed and displays them in the gallery. Developing AIG took a lot of trial and error, googling, green tea and help from my instructor, but it was absolutely worth it. Next, I plan on adding thumbnail scrolling and image preloading to the gallery.
I've also been busy figuring out git and GitHub. I decided from the get go to learn command line git instead of using the GitHub desktop app. Not just because using the command line is infinitely cooler than using a desktop, but because I felt that I'd learn more doing things manually. I'm still struggling a bit with the workflow and have to google a lot of things, but I'm getting better.
06 Sep 2015
Hello and Welcome - First Post on Jekyll
This is my very first post using the Jekyll blogging platform. I originally launched this site last spring but quickly realised updating it without any automation was going to be a major chore. Initially I was looking to use Wordpress, but Jekyll's approach of generating only static HTML pages, free hosting on GitHub and versatility made me change my mind. I also felt like I could learn more by creating everything from scratch instead of being tempted to use a free Wordpress template. Not that there aren't free Jekyll templates but I felt it was easier to create something from scratch using Jekyll rather than Wordpress.
This site is still very much under development but I figured it was better to finally launch something and polish it as I go along rather than procrastinate over details. I did everything except the Bootstrap navigation "by hand". All in all, learning Jekyll and building this site has been a great learning experience and for my next site I'll do things a bit differently (mainly not port an existing site).
PS. if you wonder what "capawaky" stands for, it's an acronym of my full name CArlos PAul WAltter KYnäslahti. Clever, right?